Zero 88 Alpha Pack 3 Dimmers
Zero 88 Alpha Pack is a portable dimmer unit that is hugely popular with lighting professionals and amateurs alike. Zero 88 drive their products forward based on the feedback of those who use them in their respective industries whether that be theatre, stage production or education. As it is straightforward enough to use, the Alpha Pack can also be used in the rental sector for displays, event services and live music performances too. 
Compact in size, the Alpha unit has 3 faders for local control or it can be controlled remotely as part of a larger lighting system making it an affordable and flexible solution. 
Alpha Pack Features 
The Alpha Pack 3 is a portable, three-channel unit which can be secured to vertical or horizontal bars using a standard clamp. It can also be attached to a wall with a mounting bracket, available in our brackets and clamps sections. It offers great value for money and as with all Zero 88 lighting products it is durable and reliable. 
Safety is also paramount with the Alpha Pack 3, as the overload protection circuit never allows the dimmer loads to draw more current than is available from the supply.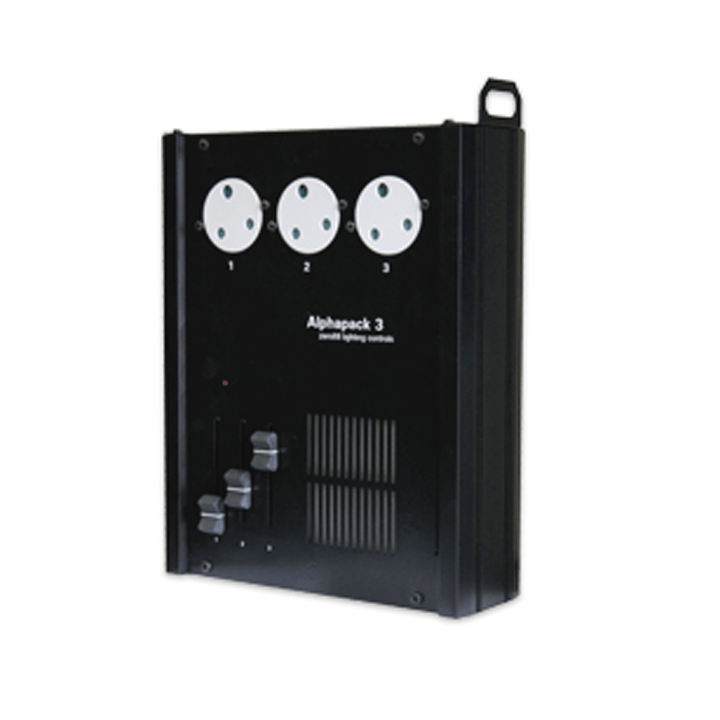 Alpha Pack 3