Tourmate 19 Pin Connectors
Our range of 19 Pin Connectors come in male and female solder variations as well as chassis mount male and female crimp .
Our range of 19 pin connectors provides a reliable and durable connection for industry professionals in all stage lighting applications. Dustproof and waterproof, our team can advise you on which connectors will work best for you and can also price up any package you require..
Contact us for more information about our 19 pin connectors.
Tourmate 19 pin Chassis mount Male solder
Tourmate 19 pin Chassis mount Female solder
Tourmate 19 pin Chassis mount Male Crimp
Tourmate 19 pin Chassis mount Female Crimp
Tourmate 19 pin Line Male Solder
Tourmate 19 pin Line Female Solder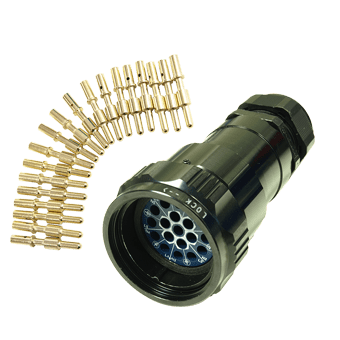 Tourmate 19 pin Line Male Crimp
Tourmate 19 pin Line Female Crimp
Tourmate 19 pin Spider Male Solder
Tourmate 19 pin Spider Female Solder
Tourmate 19 pin Spider Male Crimp
Tourmate 19 pin Spider Female Crimp