Electrical Socket Boxes
MTX Electrical and Engineering supply a range of electrical socket boxes, based on a single or double gang. Available in standard powder-coated black, you can also make use of our in-house custom build service to create your ideal product allowing you to alter the design including colour, engraving and connector type. Not only this, our socket boxes are available wired or unwired as well as with the option of a custom lid.
Engraved Electrical Socket Boxes
All our electrical socket boxes come complete with engraved labels as standard and to complement the great design of the MK style, our MTX range of electrical socket boxes are designed with quality, budget and appearance in mind,so if you require a good-looking product that doesn't blow the bank please do check out our 15 and 16a socket box range.
MK Socket Box Range 
The MK socket range of 15- and 16-amp socket boxes are made with superior materials and also suit most applications. Renowned for their quality and made in the UK, MK sockets are a popular choice within the industry. 
The theatre and entertainment industry relies on durable and long-lasting electrical equipment and MTX understand the importance of this and only supply the best equipment around. We also understand the needs of clients can vary depending on the type of project they are working on, so we aim to be as flexible as we can and our custom-built socket boxes are no different.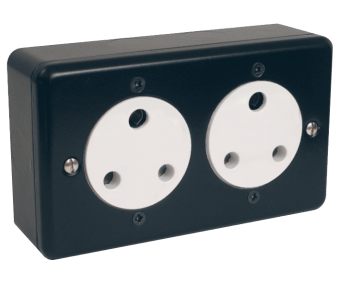 MK Socket Boxes
MTX Socket Boxes